About Me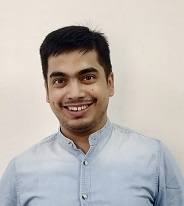 I'm a Ph.D. candidate in the CSE discipline of IIT Gandhinagar. Prof. Nipun Batra advises me. I'm also a Fulbright Visiting Researcher at the SMASH Lab of Carnegie Mellon University. My research interest is in Ubiquitous Computing. My current focus is on designing wearables that measure health parameters. I did my schooling in Shillong, India and grew up there, although I was born in the Indian state of Assam.
Updates
2022
October 28 Our paper Spiromask got accepted in ACM HEALTH.
September 14 Google Summer of Code (GSoC) officially ends. Grateful to be mentored by Josh Gordon from Google. Proposal can be found here.
August 22 Short paper titled, "Towards Continuous Respiration Rate Detection While Walking" accepted in Ubicomp 2022
August 22: Joined Carnegie Mellon University as a visiting researcher (Fulbright Scholar).
April 26: Paper titled, "Samachar: Print News Media on Air Pollution in India" accepted in ACM COMPASS'22
2021
22nd October: Got selected as a Prime Minister's Research Fellow (PMRF)
14th August: I'm serving as a member of the program committee (PC) in the 4th workshop on Data: Acquisition to Analysis
3rd July: I will be serving as a Student Volunteer for UbiComp'21!
9th April: Gave an expert talk on "Mobile Computing In Health" during GUJCOST sponsored 3-day workshop on "IoT and Wearable Technology." at SCET - Feedback From Participants-: Picture 1, Picture 2
22nd March: Member of Shadow Program Committee at ACM COMPASS
12th March: Done with PhD qualifying examinations!
2020
23rd December: Journal paper titled, "Vartalaap: What Drives #AirQuality Discussions: Politics,Pollution or Pseudo-science?" accepted in CSCW 2021
20th October: Deployment paper got accepted in the 3rd workshop on DATA'20
14th October: Poster abstract got accepted in Sensys 2020
28th July: Two posters/short papers got accepted in Ubicomp/ISWC 2020.
25th July: Position Paper got accepted for presentation in Ubicomp/ISWC 2020
4th January: Attended CoDS COMAD 2020 in ISB Hyderabad with ACM travel grant.
2019
5th December: Joined CEEW as a Visiting Fellow
1st December: Attended workshop on "Priorities for Advancing Research on Health Effects of Air Pollution in India" in AIIMS, New Delhi. Poster Presented
4th November: Attended AI For Social Good Workshop in Google Research Bangalore.
22nd August: Attended India Clean Air Summit (ICAS) 2019 organised by CSTEP.
29th July: Joined IIT Gandhinagar as a Ph.D. student
24th July: Received ACM travel grant to attend Expanding the Horizons of Human-Centered AI in Delhi.
1st March: Joined IIT Gandhinagar as a Research Assistant.
Teaching
Past Roles
August'15: Intern. Bisect Online Solutions, Guwahati,Assam
January'16: Front End Web Dev. For, EODB, Guwahati, Assam
July'16: Contract Worker for front-end web technologies. Multiple Organizations
August'18: Research and Teaching Assistant, IIIT- Sricity
March'19: Junior Research Fellow, IIT-Gandhinagar