About Me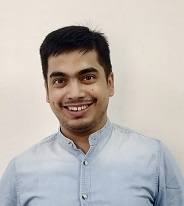 I'm a Ph.D. student at IIT Gandhinagar, and I'm supervised by Prof. Nipun Batra. I'm interested in developing computational tools for Air Pollution using Machine Learning and IoT. I did my schooling from Shillong and grew up there, although I was born in Assam.
Updates
2020
23rd December: Journal paper titled, "Vartalaap: What Drives #AirQuality Discussions: Politics,Pollution or Pseudo-science?" accepted in CSCW 2021
20th October: Deployment paper got accepted in the 3rd workshop on DATA'20
14th October: Poster abstract got accepted in Sensys 2020
28th July: Two posters/short papers got accepted in Ubicomp/ISWC 2020.
25th July: Position Paper got accepted for presentation in Ubicomp/ISWC 2020
4th January: Attended CoDS COMAD 2020 in ISB Hyderabad with ACM travel grant.
2019
5th December: Joined CEEW as a Visiting Fellow
1st December: Attended workshop on "Priorities for Advancing Research on Health Effects of Air Pollution in India" in AIIMS, New Delhi. Poster Presented
4th November: Attended AI For Social Good Workshop in Google Research Bangalore.
22nd August: Attended India Clean Air Summit (ICAS) 2019 organised by CSTEP.
29th July: Joined IIT Gandhinagar as a Ph.D. student
24th July: Received ACM travel grant to attend Expanding the Horizons of Human-Centered AI in Delhi.
1st March: Joined IIT Gandhinagar as a Research Assistant.
Teaching
Past Roles
August'15: Intern. Bisect Online Solutions, Guwahati,Assam
January'16: Front End Web Dev. For, EODB, Guwahati, Assam
July'16: Contract Worker for front-end web technologies. Multiple Organizations
August'18: Research and Teaching Assistant, IIIT- Sricity
March'19: Junior Research Fellow, IIT-Gandhinagar